Calgary AC Repair Contractor - Air Conditioning Maintenance
We are your plumbing and air conditioning repair service experts! Our team at ProStar Plumbing & Heating is available 24/7 to get any of your AC issues, no matter how tough, resolved quickly and reliably. Call us for air conditioning repair in Calgary!
At ProStar Plumbing & Heating, our AC specialists use their expertise and experience to help Calgary residents with reliable and affordable air conditioning repairs and air conditioning maintenance services. We are committed to offering Calgary residents the best prices and customer service to make their AC repair or maintenance experience as easy and stress-free as possible.
At ProStar Plumbing & Heating, there are no overtime charges and you can expect upfront, flat-rate pricing and personalized solutions that will offer you long-term benefits and peace of mind. If your air conditioning is malfunctioning or just not performing as well as it should be, call ProStar Plumbing & Heating today and visit the coupons page on our website to save even more on your AC repairs and maintenance.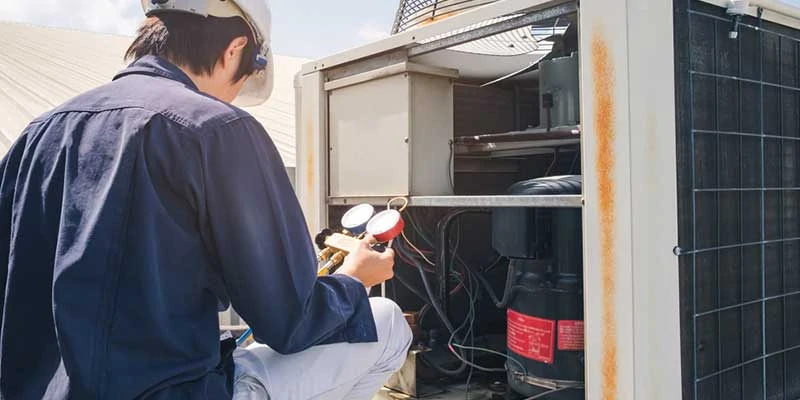 Calgary Expert Air Conditioning Repair
A functional AC unit that can keep your family cool and comfortable in all temperatures is an essential part of enjoying your home. Just as you rely on your AC to keep you cool and comfortable year-round, you can rely on ProStar Plumbing & Heating's AC repair services to repair and maintain your air conditioning unit. ProStar Plumbing & Heating is available 24/7 to solve your toughest issues and make sure that they don't come back. All of our trained and qualified technicians offer trustworthy and long-term solutions carried out using safe and proven methods to get the job done right.
Heating and air conditioning systems require proper and regular maintenance in order to continue functioning at an efficient level. However, even with proper maintenance, an AC unit will last an average of 10-15 years. If your unit is on its last leg, it may be wise to have it inspected by our professional technicians in order to determine whether replacing a unit will be a better investment than a repair. Our experts are happy to give customers honest recommendations about AC repair in Calgary to ensure they are satisfied and comfortable.
Air Conditioning Maintenance in Calgary
Air Conditioning maintenance is a great way to extend and improve the life of your AC unit. The right maintenance can maximize your AC unit's performance and keep your energy costs low. Since AC units receive nearly constant use to keep your home or business at a comfortable temperature, AC maintenance is a vital part of keeping cooling costs low. Problems that start off as small issues with quick fixes can easily turn into bigger, more expensive problems without the proper maintenance. Our technicians can help you keep your cool and protect your investment with air conditioning tune-ups, filter changes, and scheduled maintenance visits.
At ProStar Plumbing & Heating, you can always expect a customer-oriented approach, personal attention from start to finish, and an emphasis on solving the problem the first time around to keep your air conditioning maintenance and repair costs low. Customers love our emergency services at no extra charge, our senior discounts, quality plumbing products and easy financing options. See what our customers have to say in our latest reviews.
Schedule Your Appointment
Call ProStar Plumbing & Heating today to schedule same-day service for AC repair or maintenance in Calgary.